TP010 - TOP ACRYLIC RAL
Body:
Top Acrylic: 100% acrylic enamel for indoor and outdoor use. Adheres to many different surfaces: wood, metal, glass, ceramics, plaster, masonite, painted surfaces, natural and plastic material (excluding moplen).
Application: surfaces must be clean and dry. Shake the container before and during use. Spray at a distance of 20 – 30 cm, using slow and constant movements in thin, crossing layers. Dries to the touch in 15 minutes, dries in-depth in 24 hours. Self-cleaning valve. Cap colour corresponds with the RAL colour. The vandalic use of the product implies serious sanctions. Varnish removal: through Acetone and/or Nitrodiluent.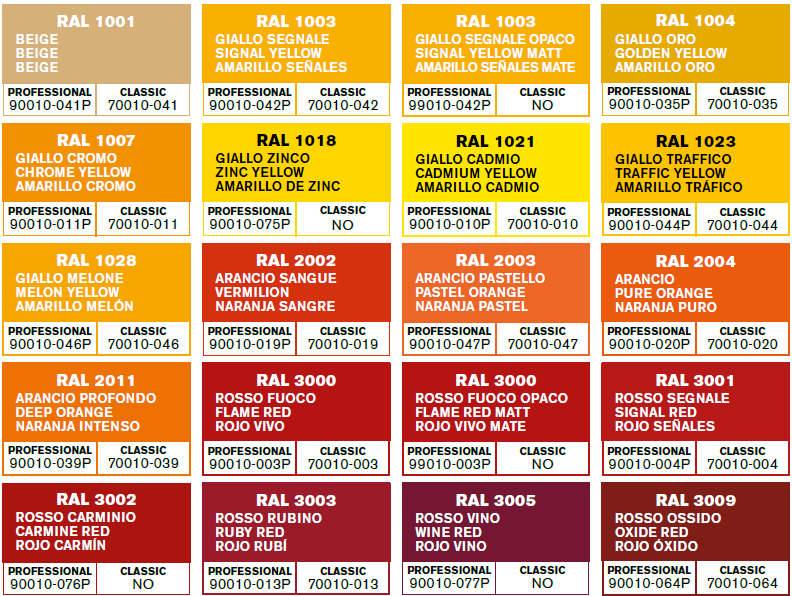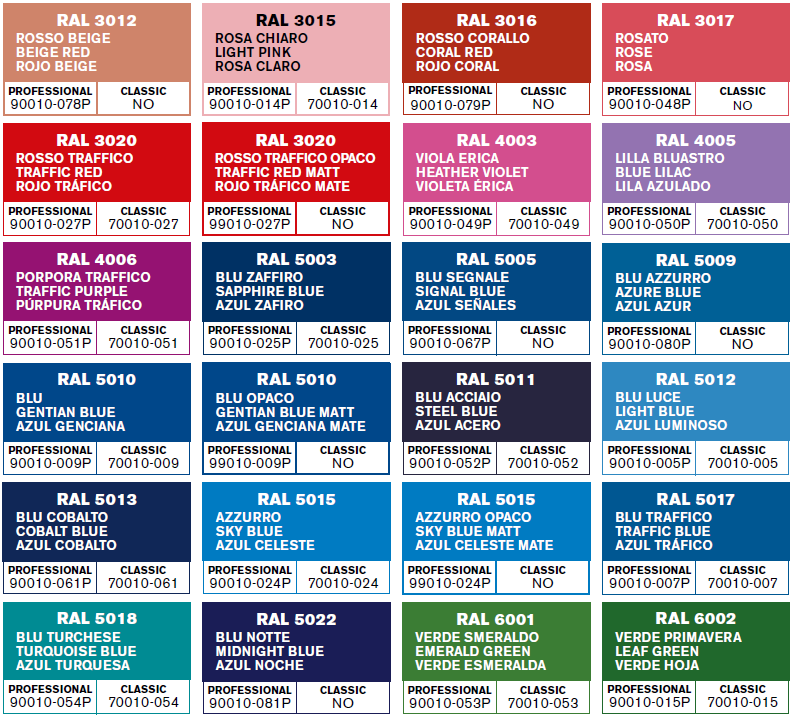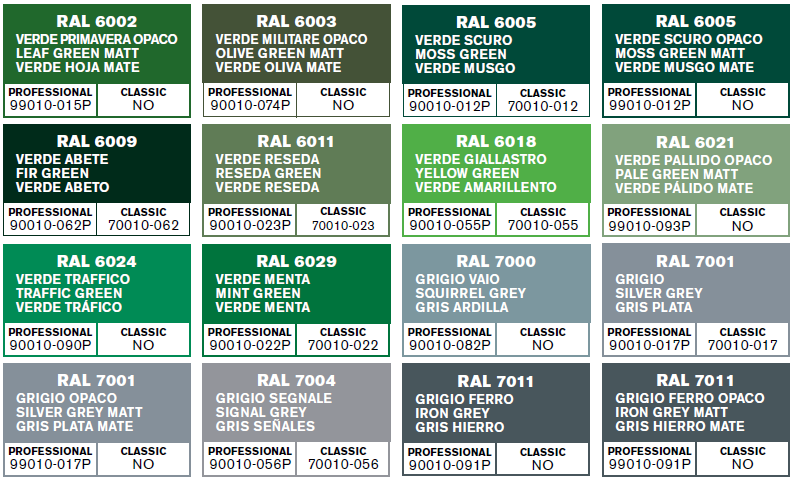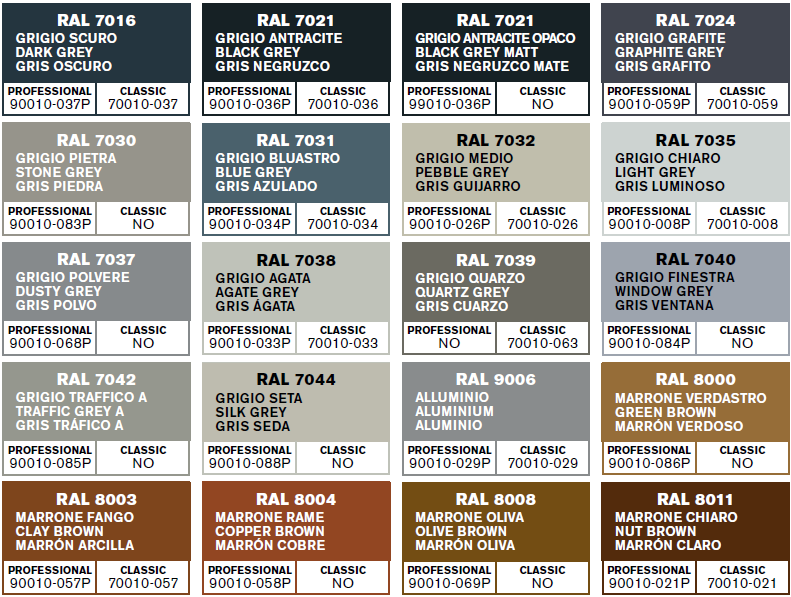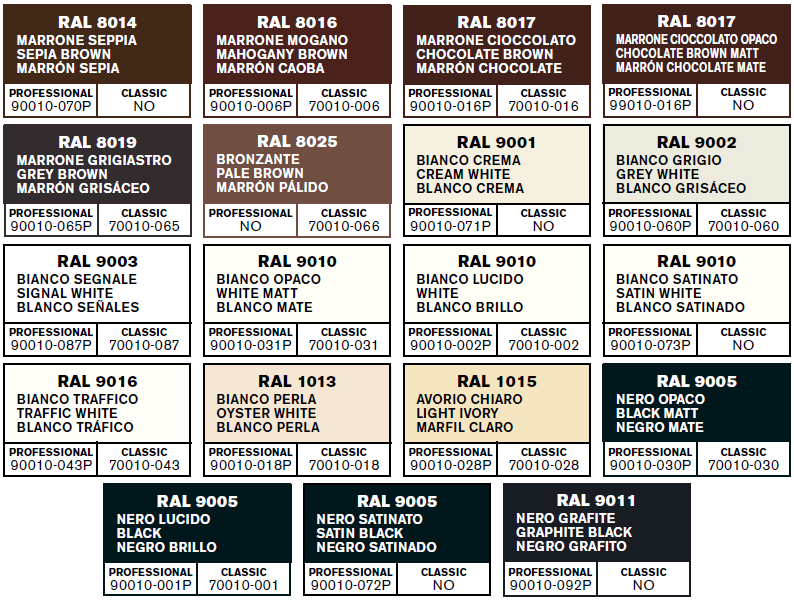 | Code | Description | Pieces |
| --- | --- | --- |
| 90010/042P | TP010 TOP RAL 1003 GIALLO SEGNALE | 6 |
| 90010/011P | TP010 TOP RAL 1007 GIALLO CROMO | 6 |
| 90010/010P | TP010 TOP RAL 1021 GIALLO CADMIO | 6 |
| 90010/044P | TP010 TOP RAL 1023 GIALLO TRAFFICO | 6 |
| 90010/046P | TP010 TOP RAL 1028 GIALLO MELONE | 6 |
| 90010/019P | TP010 TOP RAL 2002 ARANCIO SANGUE | 6 |
| 90010/047P | TP010 TOP RAL 2003 ARANCIO PASTELLO | 6 |
| 90010/020P | TP010 TOP RAL 2004 ARANCIO | 6 |
| 90010/039P | TP010 TOP RAL 2011 ARANCIO PROFONDO | 6 |
| 90010/003P | TP010 TOP RAL 3000 ROSSO FUOCO | 6 |
| 90010/004P | TP010 TOP RAL 3001 ROSSO SEGNALE | 6 |
| 90010/013P | TP010 TOP RAL 3003 ROSSO RUBINO | 6 |
| 90010/064P | TP010 TOP RAL 3009 ROSSO OSSIDO | 6 |
| 90010/027P | TP010 TOP RAL 3020 ROSSO TRAFFICO | 6 |
| 90010/049P | TP010 TOP RAL 4003 VIOLA ERICA | 6 |
| 90010/051P | TP010 TOP RAL 4006 PORPORA TRAFFICO | 6 |
| 90010/050P | TP010 TOP RAL 4005 LILLA BLUASTRO | 6 |
| 90010/025P | TP010 TOP RAL 5003 BLU ZAFFIRO | 6 |
| 90010/067P | TP010 TOP RAL 5005 BLU SEGNALE | 6 |
| 90010/009P | TP010 TOP RAL 5010 BLU | 6 |
| 90010/052P | TP010 TOP RAL 5011 BLU ACCIAIO | 6 |
| 90010/005P | TP010 TOP RAL 5012 BLU LUCE | 6 |
| 90010/061P | TP010 TOP RAL 5013 BLU COBALTO | 6 |
| 90010/024P | TP010 TOP RAL 5015 AZZURRO | 6 |
| 90010/007P | TP010 TOP RAL 5017 BLU TRAFFICO | 6 |
| 90010/054P | TP010 TOP RAL 5018 BLU TURCHESE | 6 |
| 90010/053P | TP010 TOP RAL 6001 VERDE SMERALDO | 6 |
| 90010/015P | TP010 TOP RAL 6002 VERDE PRIMAVERA | 6 |
| 90010/074P | TP010 TOP RAL 6003 VERDE MILITARE OPACO | 6 |
| 90010/062P | TP010 TOP RAL 6009 VERDE ABETE | 6 |
| 90010/023P | TP010 TOP RAL 6011 VERDE RESEDA | 6 |
| 90010/055P | TP010 TOP RAL 6018 VERDE GIALLASTRO | 6 |
| 90010/022P | TP010 TOP RAL 6029 VERDE MENTA | 6 |
| 90010/017P | TP010 TOP RAL 7001 GRIGIO | 6 |
| 90010/056P | TP010 TOP RAL 7004 GRIGIO SEGNALE | 6 |
| 90010/037P | TP010 TOP RAL 7016 GRIGIO SCURO | 6 |
| 90010/036P | TP010 TOP RAL 7021 GRIGIO ANTRACITE | 6 |
| 90010/059P | TP010 TOP RAL 7024 GRIGIO GRAFITE | 6 |
| 90010/034P | TP010 TOP RAL 7031 GRIGIO BLUASTRO | 6 |
| 90010/026P | TP010 TOP RAL 7032 GRIGIO MEDIO | 6 |
| 90010/008P | TP010 TOP RAL 7035 GRIGIO CHIARO | 6 |
| 90010/068P | TP010 TOP RAL 7037 GRIGIO POLVERE | 6 |
| 90010/033P | TP010 TOP RAL 7038 GRIGIO AGATA | 6 |
| 90010/029P | TP010 TOP RAL 9006 ALLUMINIO | 6 |
| 90010/057P | TP010 TOP RAL 8003 MARRONE FANGO | 6 |
| 90010/058P | TP010 TOP RAL 8004 MARRONE RAME | 6 |
| 90010/069P | TP010 TOP RAL 8008 MARRONE OLIVA | 6 |
| 90010/021P | TP010 TOP RAL 8011 MARRONE CHIARO | 6 |
| 90010/070P | TP010 TOP RAL 8014 MARRONE SEPPIA | 6 |
| 90010/016P | TP010 TOP RAL 8017 MARRONE CIOCCOLATO | 6 |
| 90010/065P | TP010 TOP RAL 8019 MARRONE GRIGIASTRO | 6 |
| 90010/030P | TP010 TOP RAL 9005 NERO OPACO | 6 |
| 90010/001P | TP010 TOP RAL 9005 NERO LUCIDO | 6 |
| 90010/072P | TP010 TOP RAL 9005 NERO SATINATO | 6 |
| 90010/028P | TP010 TOP RAL 1015 AVORIO CHIARO | 6 |
| 90010/018P | TP010 TOP RAL 1013 BIANCO PERLA | 6 |
| 90010/060P | TP010 TOP RAL 9002 BIANCO GRIGIO | 6 |
| 90010/002P | TP010 TOP RAL 9010 BIANCO LUCIDO | 6 |
| 90010/031P | TP010 TOP RAL 9010 BIANCO OPACO | 6 |
| 90010/073P | TP010 TOP RAL 9010 BIANCO SATINATO | 6 |
| 90010/075P | TP010 TOP RAL 1018 GIALLO ZINCO | 6 |
| 90010/076P | TP010 TOP RAL 3002 ROSSO CARMINIO | 6 |
| 90010/077P | TP010 TOP RAL 3005 ROSSO VINO | 6 |
| 90010/078P | TP010 TOP RAL 3012 ROSSO BEIGE | 6 |
| 90010/079P | TP010 TOP RAL 3016 ROSSO CORALLO | 6 |
| 90010/080P | TP010 TOP RAL 5009 BLU AZZURRO | 6 |
| 90010/082P | TP010 TOP RAL 7000 GRIGIO VAIO | 6 |
| 90010/083P | TP010 TOP RAL 7030 GRIGIO PIETRA | 6 |
| 90010/084P | TP010 TOP RAL 7040 GRIGIO FINESTRA | 6 |
| 90010/085P | TP010 TOP RAL 7042 GRIGIO TRAFFICO A | 6 |
| 90010/086P | TP010 TOP RAL 8000 MARRONE VERDASTRO | 6 |
| 90010/087P | TP010 TOP RAL 9003 BIANCO SEGNALE | 6 |
| 90010/088P | TP010 TOP RAL 7044 GRIGIO SETA | 6 |
| 99010/042P | TP010 TOP RAL 1003 GIALLO SEGNALE OPACO | 6 |
| 99010/003P | TP010 TOP RAL 3000 ROSSO FUOCO OPACO | 6 |
| 99010/027P | TP010 TOP RAL 3020 ROSSO TRAFFICO OPACO | 6 |
| 99010/009P | TP010 TOP RAL 5010 BLU OPACO | 6 |
| 99010/024P | TP010 TOP RAL 5015 AZZURRO OPACO | 6 |
| 99010/015P | TP010 TOP RAL 6002 VERDE PRIMAVERA OPACO | 6 |
| 99010/012P | TP010 TOP RAL 6005 VERDE SCURO OPACO | 6 |
| 99010/093P | TP010 TOP RAL 6021 VERDE PALLIDO OPACO | 6 |
| 99010/017P | TP010 TOP RAL 7001 GRIGIO OPACO | 6 |
| 99010/091P | TP010 TOP RAL 7011 GRIGIO FERRO OPACO | 6 |
| 99010/036P | TP010 TOP RAL 7021 GRIGIO ANTRACITE OPAC | 6 |
| 99010/016P | TP010 TOP RAL 8017 MARRONE CIOCCO. OPACO | 6 |
| 90010/090P | TP010 TOP RAL 6024 VERDE TRAFFICO | 6 |
| 90010/091P | TP010 TOP RAL 7011 GRIGIO FERRO | 6 |
| 90010/092P | TP010 TOP RAL 9011 NERO GRAFITE | 6 |
More information